It's harvest season around here! :) Everything that can be canned, blanched, frozen or stored for the winter is in our kitchen or in a recipe that is floating around in my brain! We are in deep to our creative ideas for what we can store for the winter months! SO, on a walk a few weeks ago, Katie (our lovely housemate right now) found some wild grapes growing at a nearby cemetery! :) We tasted. They were sour, but the idea immediately came for some wild grape jelly.
I have never been a HUGE fan of store-bought jellies or jams simply because they tend to be overly sweet and lack in flavor. And to be honest, I haven't made any jellies or jams in YEARS, so we sought out to find the *best* grape jelly recipe that we could find. Preferably one that didn't have much sugar (these grapes were SURE to have great flavor and we didn't want to mask it with cups and cups of sugar)! :)
And we found it! :) We adapted this recipe for our needs and here our adapted one listed below! I can ASSURE YOU that it's amazing and so tasty! After three batches we already are on the hunt for more grapes around the neighborhood! :)
THE NO SUGAR GRAPE JELLY! :) YUM!
Ingredients:
10 cups of grapes (off the stems and vine)
1 apple (we used a sweeter apple because our grapes were VERY tart…so choose your apple according to how sweet you want the finished jelly)
2 cups of sugar
1. Put the grapes and apples, along with a 1/2 cup of water, in a large pot. Cover, and bring to a boil. Let boil for 10 minutes so that it ends up being very juice (your house will smell AMAZING)! :)
2. Strain the juice through a large sieve or small-holed strainer. We pressed the grapes (and seeds) against the strainer to get the most juice amount out of the each little grape!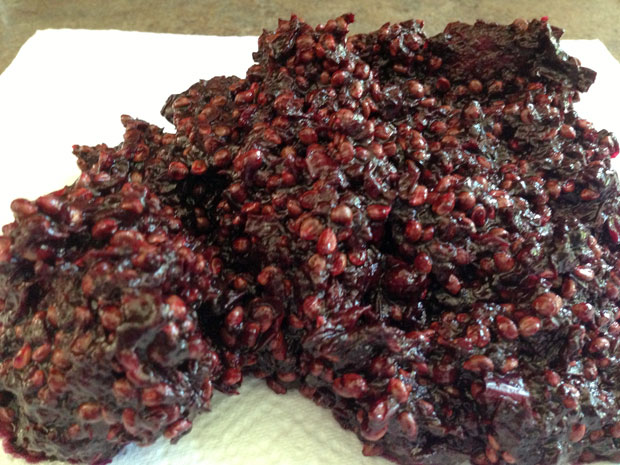 (our leftover grape mush after extracting the juice)
3. Pour the extracted juice into a large saucepan, add the sugar. Keep the pan over medium heat and keep stirring. This is the part of the process that you boil most of the liquid off to form the "jelly" consistency. Keep over heat for about 20-25 minutes, or until the juice thickens up considerably. You will know it is ready when you insert a cold spoon into the mixture and it "falls off" in a sheet-like way from the spoon.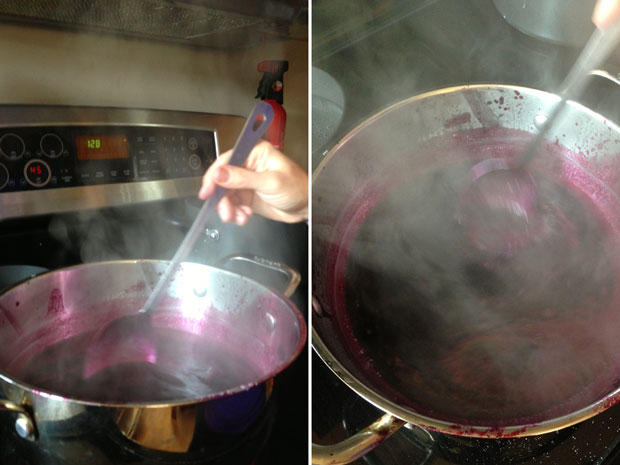 4. Pour jelly into hot, sterilized jelly jars! :) Fill each jar about 1/4 inch from the top rim. Place (preheated) caps and canning rings on the jars. Submerge the jars into a pot of water and boil for 5 minutes to seal. Remove from heat and let cool. Any jars that haven't sealed after completely cooling, should be refrigerated and used first! :)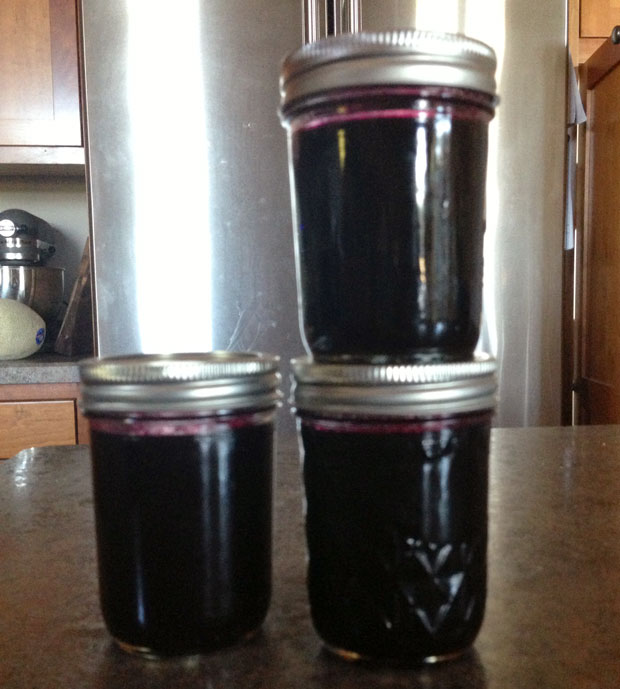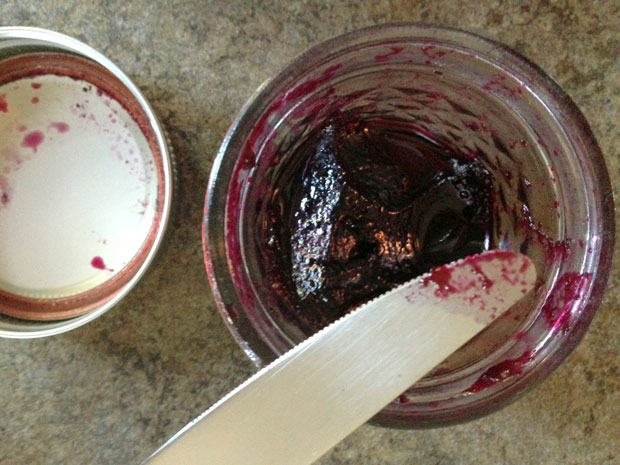 ENJOY! :) I can't wait to try this with more fruits….maybe next year we should plan a pear tree?! :)