It has been a frigid Midwestern winter around here! Today we started out at -17…again! I love a good winter (it makes spring all the sweeter) but this is getting to be a bit much.
We have the privilege of living next door to my husband's parents, and we often walk through the woods to get to their house. These days we have been stuffing some of the rice bags I made into coats as we make the walk. On a chilly morning I will often heat mine up and have it around my neck as I get breakfast ready. Rice bags are one of the perks around here when the snow flies. Here's some of our collection.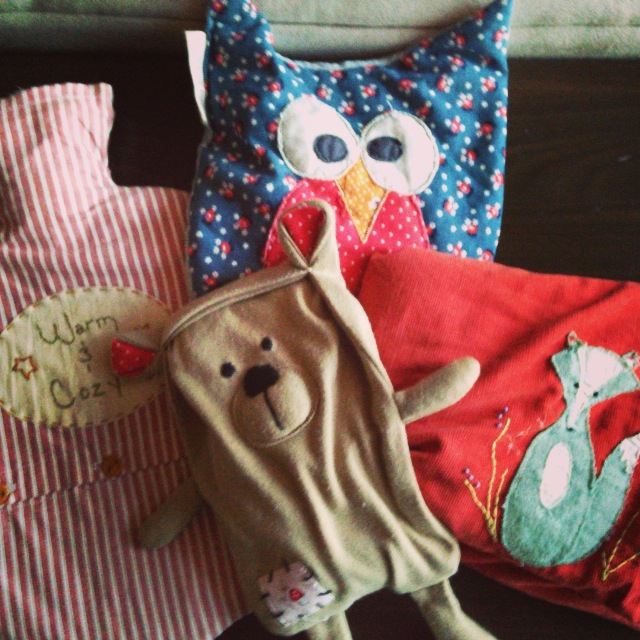 Elias is the owner of the owl "Bed Buddy."  A Bed Buddy is an animal (owl, fox, elephant…whatever you want) that the kids take to bed with them at night. My boys LOVE theirs and it is part of the nightly ritual to warm them for a couple minutes in the microwave before bed. Espen is the keeper of "Peppermint Patch Bear." He is also a bed buddy, but he has a special patch that we add peppermint oil to when he has a cold. (You can totally add essential oils to any of your rice bags, but this bear just features it!) I claim the fox one as mine. This rice bag is just a simple rectangle with an envelope style closure on the back so it can easily be washed. The last one you see is the hot water bottle cozy. A nod to the past with this great warm-up tool. I generally don't use this one with the kids because I worry about the top getting unscrewed or popping off if someone jumps on it…because this could easily happen in a family of boys…but it is a dandy for retaining heat. And the hubbies you ask…well he has designed and requested one…but so far the sewing machine has not obliged. Huh.
Feel like making your own? You can make it as simple as you want! Lots of materials make great rice bags, including, knit jersey, corduroy, ticking, cuddle fabric, cotton.  To be really green, you could recycle some old clothes if you want! Here are some options for making yours.
–Make a rectangle with some fabric. Leave a hole to pour some rice in. Sew it closed.  Voila!
–Use an envelope style closure on the back of a rectangle. Make a very simple rectangle out of thin scrap fabric slightly smaller than the outside rectangle. Fill this simple rectangle with your rice. Sew closed. Slide this simple inner rectangle into your outer envelope rectangle.
–Draw a shape (like the Bed Buddy) on the dull side of freezer paper. Iron it with the shining side down to your fabric. Cut out. Remove freezer paper. Add eyes, noses, beaks, etc with fusible web or a bit of fabric glue to hold it in place. Stitch around eyes, noses, etc. With wrong sides of shapes (owl, fox, elephant…)together, sew around edge using at least 1/4″. Leave a small hole for filling with rice. Fill with rice. Sew hole closed.
–Add embroidery or other fabric designs to your rice bag.
–Create a scrappy quilted rice bag.
–Add essential oils to the outside of your bag. Peppermint oil=colds. Lavender=relaxation. Adding drops to the outside of the bag allows you to change up the scents whenever you want.
–Add dried lavender to the inside of your bag.
–DON'T use anything metal!! Your microwave will have a fit. Literally.
–I found that only filling your bag about 1/4-1/3 full is best. Too much rice almost creates too much weight.
If you need something to help warm you up this winter, try making a rice bag!!